Top Websites for Free Bead Patterns Part 1 (2/4/2015)
Today, I am going to share the places I find free beading patterns. I am sure there are thousands blogs with a few free bead patterns, but these sites really have the mother load of patterns and inspiration. If there are sites you especially like that I don't list, please let me know and I'll put them in a future post.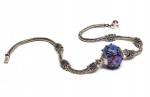 Bead Magazine Sites:
The big magazine publishers have a lot of free patterns, projects and how-tos. Some are from their magazines and some are in addition to their magazines. Check out their sites:
Bead and Button (Kalmbach): http://bnb.jewelrymakingmagazines.com/projects/free-projects
Beadwork (Interweave): http://www.beadingdaily.com/
Individuals Web Sites: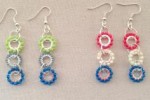 Some individuals are extremely prolific when it comes to making bead patterns. I don't know how they find the time! Some of these sites have been around a long time and have built up a lot of free patterns:
Deborah Roberti: http://www.aroundthebeadingtable.com/Tutorials/
Beads Magic: http://www.beadsmagic.com/
Emma McCreary: http://www.beadage.net/
Sandra Halpenny: http://sandrahalpennybeading.blogspot.com/
Lisa Yang/Chris Franchetti: http://beadwork.about.com/
Next post, I will have links to some online bead stores that have great free patterns, inspiration and tutorials.
Share and Enjoy
tags:
about beadwork
,
bead and button
,
bead inspiration
,
bead magazine sites
,
beadage
,
beads magic
,
beadwork
,
chris franchetti
,
deborah roberti
,
emma mccreary
,
free beading patterns
,
interweave
,
kalmbach
,
lisa yang
,
projects and how-tos
,
sandra halpenny
,
tutorials
by Julie Hunkar