Free Seed Bead Patterns (2/20/2015)
Seed beads…what would we do without them? Besides using them in beadweaving, seed beads can be incorporated into just about any kind of jewelry using kumihimo, crochet, knitting, wirework, mixed media, resin, chain maille or bead stringing. Today I've got links to collections of patterns using seed beads.
16 Easy Seed Bead Bracelet Patterns
http://www.guidepatterns.com/ Thu, 22 Jan 2015 01:37:04 -0800
The seed bead pattern, used in bead weaving form is a popular choice for making different creative ornaments. Bracelets made from vibrant colored beads are the trendiest of the lot.  Here are some creative and interesting ways you may try your hands at in fashioning some beautiful and creative looking stuff.
http://kimberliekohler.com/ Sep 2013
Love stringing and ready to take your skills to the next level?  Try the Loops Necklace Tutorial! This necklace tutorial will teach you how to string jewelry, with a fun twist (or loop, actually). If you don't know how to do basic stringing, I teach you everything you need to know in this tutorial anyway, so it's great for beginners. This necklace was inspired by the colorful beads you see here, but you can use any small beads you like.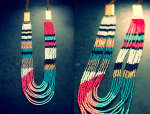 6 Cute Seed Bead Jewelry Projects
http://www.brandywinejewelrysupply.com/blog/ Thu, 13 Jun 2013 05:00:50 -0700
Seed beads are uniformly shaped, usually beads ranging in size from under a millimeter to several millimeters. "Seed bead" is a generic term for any small bead. Seed beads are basic, essential materials in a beader's stash, a essential component that can be incorporated into a wide variety of craft and jewelry designs. Here are six stunning ideas for using seed beads.
How To Make An Earthy Beaded Necklace
http://www.fortheloveof.net/ May 2013
I've been holding onto these beads for months now, almost a year to be exact. I purchased them on this trip to the flea market when I was still pregnant with Hayden and have played around with them off and on a few times now, not quite getting the design or configuration to my liking. They're gorgeous, very earthy feeling beads from Africa, so I wanted to really make something special out of them.
http://www.henryhappened.com/ Nov 2013
There's been a lot of DIYing going on 'round these parts! And for some reason I've been stuck on making necklaces. Seriously, we have enough necklaces to fill a whole month of tutorials. And I can't wait to share what we've been cooking up! But first I'd thought I'd share a few (is 31 a few?) of my favorite DIY necklaces. All are amazing and totally doable. Picking which to make first might be harder than a trip to Baskin Robbins.

So go ahead and pin this and stay busy all spring!
https://atrapasueno.wordpress.com/ Sun, 16 Nov 2014 14:24:07 -0800
I'm really getting into the holidays already. I'm all about anything Christmas, holiday, snow, winter themed. I came across this great tutorial on pinterest for beading stars and after making a few, I thought I would try my hand at making a snowflake version.
Magical Magatamas Beaded Earrings and Pendant Tutorial
Learn how to use herringbone and peyote bead weaving techniques to make a cute beaded starfish.
A picture tutorial of my Drop Bezel Necklace design. A basic knowledge of peyote stitch is required.
Share and Enjoy