Shop Small Business Saturday – Find Your Local Bead Store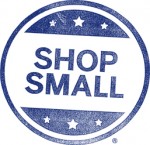 Hopefully you had a great Thanksgiving and now you are out shopping on Black Friday (or not). Tomorrow is Small Business Saturday – find your local bead store and visit them. Sponsored by American Express, if you spend $10 or more on your American Express card, you will receive $10 back. You need to register your card: 
https://enroll.amexnetwork.com/US/en/SBS2013/
Find local participating stores here:
http://shopsmallnow.americanexpress.com/ShopSmall
Even if you don't have an American Express card, it is good to shop in your local community. Whether it's a bead store, or any other local store, your money stays in the community and goes back into the community through taxes and wages. You also get unique items and personal service.
If you haven't found your local bead store, or you are out of town and need help finding them, check out the Guide to Beadwork directory of retail bead stores.
Have fun shopping!!
BeadGal
Share and Enjoy