Happy New Year!! (12/31/2012)
Happy New Year!! Here's some beading resolution inspiration to start the new year!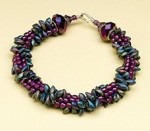 New Year's Resolutions: Beading in 2013 – Inside Beadwork …
www.beadingdaily.com12/13/12
It's almost that time of year again: time to pull out the old tennis shoes and hit the gym, get rid of all the junk food from the past couple of weeks, and vow to cut my caffeine intake down to two cups per day. But this year, I'm …
Luxemi's Top 10 New Year's Resolutions for 2013 | The Luxe Report
blog.luxemi.com12/24/12
Be a little girlier than we were in 2012 by wearing more frills. new year's resolutions 2013 · new year's fashion resolutions 2013 indian fashion blog 3. Volunteer more time and resources to worthy organizations (our faves are SAY WE and … Tagged as altuzarra, bead fashion trend 2013, black and white trend 2013, braid trend 2013 2012, designer saree, diy projects india, emerald, emerald jewelry india, emerald saree, exotic vacation india, fashion, felix baumgartner …
Artbeads Employees' New Year Resolutions
blog.artbeads.com12/26/12
Now that the holidays are over, it's time to start thinking about changes in the coming year. We asked around to find out what some of the Artbeads staff have planned in 2013, and here are their goals: "Flatback my world using …
A Bead A Day: Happy New Year & Final Giveaway Winner …
abeadaday.blogspot.com12/26/12
Happy New Year & Final Giveaway Winner Announced! It's almost 2013! Happy New Year everyone! Almost time to set those resolutions… I had a chance to make some holiday earrings for family and friends on Monday.
Beading4perfectionists : Merry Christmas, new years resolution
Hoping 2013 brings you everything you ever wanted for

Merry Christmas everyone.
Share and Enjoy