Delica Durability Chart (6/1/2011)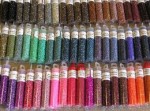 Ever wonder why the finish on some Delica® seed beads wear off? Some will fade in sunlight. Some will fade if they contact liquid, i.e. perspiration or water. See below for a list of Delica® beads and their durability.
Personally, I tend to wear off the finish of many "DYED" Delica®'s while I'm working with them, so I tend to avoid using them if I can. It's either because of my oily skin or maybe I'm too "alkaline" or "acidic" I guess.
Below is a chart of all the Delica® seed bead color numbers and names along with their durability. You can look up whether a certain color will tend to wear off or fade before you go to the store to buy it or order it online, then decide if there is a close substitute that is more durable – or if you need to look for one.
*How to see the durability information (from Miyuki Co. Ltd.)
This data is based on our examination result and manufacturing history. It is not the absolute one, therefore it differs in an individual use and condition. Please confirm it well before you use it.
| | |
| --- | --- |
| Mark | Meaning |
| A | Colors which might change and / or fade due to bright sun or deterioration with time. |
| B | Colors rubbing off from friction or contact with skin acid. |
| C | Colors which will alter or fade from dry-cleaning. |
| 0 | There is no problem in usual use. |
| – | There might be a problem in durability by individual use.. |
| X | There is not strong durability, so attention is required for use. |
| | | | | |
| --- | --- | --- | --- | --- |
| Col No. | Color Description | A | B | C |
| DB0001 | Gunmetal | 0 | 0 | 0 |
| DB0002 | Blue Iris | 0 | 0 | 0 |
| DB0003 | Green Iris | 0 | 0 | 0 |
| DB0004 | Purple Iris | 0 | 0 | 0 |
| DB0005 | Black AB | 0 | 0 | 0 |
| DB0006 | Gunmetal Iris | 0 | 0 | 0 |
| DB0007 | Brown Iris | 0 | 0 | 0 |
| DB0010 | Black | 0 | 0 | 0 |
| DB0011 | Metallic Olive | 0 | – | 0 |
| DB0012 | Metallic Raspberry | 0 | – | 0 |
| DB0021 | Nickel Plated | 0 | – | 0 |
| DB0022 | Metallic Bronze | 0 | – | 0 |
| DB0022L | Metallic Lt. Bronze | 0 | – | 0 |
| DB0023 | Metallic Bronze AB | 0 | 0 | 0 |
| DB0024 | Metallic Green AB | 0 | 0 | 0 |
| DB0025 | Metallic Purple AB | 0 | 0 | 0 |
| DB0026 | Metallic Black Luster | 0 | 0 | 0 |
| DB0027 | Metallic Green Luster | 0 | 0 | 0 |
| DB0029 | Nickel Plated AB | 0 | 0 | 0 |
| DB0031 | 24KT Gold Plated | 0 | – | 0 |
| DB0032 | Rhodium Plated | 0 | – | 0 |
| DB0033 | 24KT Gold Lined Crystal | 0 | 0 | – |
| DB0034 | 24KT Lt. Gold Plated | 0 | – | 0 |
| DB0035 | Galvanized Silver | – | X | X |
| DB0036 | Tin Plated | 0 | – | 0 |
| DB0037 | Copper Lined Crystal | – | X | – |
| DB0038 | Palladium Plated | 0 | – | 0 |
| DB0040 | Copper Plated | – | X | X |
| DB0041 | Silver Lined (S/L) Crystal | – | – | – |
| DB0042 | Silver Lined (S/L) Gold | – | – | – |
| DB0043 | Silver Lined (S/L) Red | – | – | – |
| DB0044 | Silver Lined (S/L) Aqua | – | – | – |
| DB0045 | Silver Lined (S/L) Orange | – | – | – |
| DB0046 | Silver Lined (S/L) Green | – | – | – |
| DB0047 | Silver Lined (S/L) Cobalt | – | – | – |
| DB0048 | Silver Lined (S/L) Grey | – | – | – |
| DB0050 | Crystal Luster | 0 | 0 | 0 |
| DB0051 | Crystal AB | 0 | 0 | 0 |
| DB0052 | Inside Dyed-Color AB | – | 0 | X |
| DB0053 | Inside Dyed-Color AB | 0 | 0 | – |
| DB0054 | Inside Dyed-Color AB | – | 0 | X |
| DB0055 | Inside Dyed-Color AB | – | 0 | X |
| DB0056 | Inside Dyed-Color AB | – | 0 | X |
| DB0057 | Inside Dyed-Color AB | – | 0 | X |
| DB0058 | Inside Dyed-Color AB | – | 0 | X |
| DB0059 | Inside Dyed-Color AB | – | 0 | X |
| DB0060 | Inside Dyed-Color AB | 0 | 0 | – |
| DB0061 | Inside Dyed-Color | – | 0 | X |
| DB0062 | Inside Dyed-Color | – | 0 | X |
| DB0063 | Inside Dyed-Color AB | – | 0 | X |
| DB0064 | Inside Dyed-Color | – | 0 | X |
| DB0065 | Inside Dyed-Color | – | 0 | X |
| DB0066 | Inside Dyed-Color | 0 | 0 | – |
| DB0067 | Inside Dyed-Color | 0 | 0 | – |
| DB0068 | Inside Dyed-Color | 0 | 0 | – |
| DB0069 | Inside Dyed-Color | – | 0 | X |
| DB0070 | Inside Dyed-Color | – | 0 | X |
| DB0071 | Inside Dyed-Color AB | – | 0 | X |
| DB0072 | Inside Dyed-Color | – | 0 | X |
| DB0073 | Inside Dyed-Color | – | 0 | X |
| DB0074 | Inside Dyed-Color | – | 0 | X |
| DB0075 | Inside Dyed-Color AB | 0 | 0 | – |
| DB0076 | Inside Dyed-Color AB | 0 | 0 | – |
| DB0077 | Inside Dyed-Color AB | 0 | 0 | – |
| DB0078 | Inside Dyed-Color | – | 0 | X |
| DB0079 | Inside Dyed-Color | 0 | 0 | – |
| DB0080 | Inside Dyed-Color | – | 0 | X |
| DB0081 | Inside Dyed-Color | 0 | 0 | – |
| DB0082 | Inside Dyed-Color AB | – | 0 | X |
| DB0083 | Inside Dyed-Color AB | – | 0 | X |
| DB0084 | Inside Dyed-Color AB | – | 0 | X |
| DB0085 | Inside Dyed-Color | – | 0 | X |
| DB0086 | Inside Dyed-Color AB | – | 0 | X |
| DB0087 | Inside Dyed-Color AB | 0 | 0 | 0 |
| DB0088 | Inside Dyed-Color AB | – | 0 | X |
| DB0089 | Inside Dyed-Color AB | – | 0 | X |
| DB0091 | Inside Dyed-Color AB | 0 | 0 | – |
| DB0098 | Transparent Red Luster | 0 | 0 | 0 |
| DB0099 | TransparentLt. Topaz Luster | 0 | 0 | 0 |
| DB0100 | TransparentLt. Topaz AB | 0 | 0 | 0 |
| | | | | |
| --- | --- | --- | --- | --- |
| Col No. | Color Description | A | B | C |
| DB0101 | Transparent Glazed Luster | 0 | – | 0 |
| DB0102 | Transparent Gold Luster Lt Brown | X | – | – |
| DB0103 | Transparent Gold Luster AB | 0 | 0 | 0 |
| DB0104 | Transparent Gold Luster Raspberry AB | 0 | 0 | 0 |
| DB0105 | Transparent Red Gold Luster | 0 | 0 | 0 |
| DB0106 | Transparent Glazed Luster Pink | 0 | 0 | 0 |
| DB0107 | Transparent Gold Luster Grey AB | 0 | – | 0 |
| DB0108 | Transparent Gold Luster Amethyst | X | – | – |
| DB0109 | Transparent Glazed Luster AB | 0 | – | 0 |
| DB0110 | Transparent Glazed Luster Lt. Aqua AB | 0 | – | 0 |
| DB0111 | Transparent Glazed Luster Lt. Blue AB | – | – | 0 |
| DB0112 | Transparent Aqua Glazed Luster Lt. Green | 0 | – | 0 |
| DB0113 | Transparent Aqua Glazed Luster | 0 | – | 0 |
| DB0114 | Transparent Gold Luster Grey | 0 | – | 0 |
| DB0115 | Transparent Lt. Topaz Gold Luster | X | – | – |
| DB0116 | Transparent Red Gold Luster | 0 | – | 0 |
| DB0117 | Transparent Aqua Gold Luster Lt. Purple | 0 | – | 0 |
| DB0118 | TransparentYellow Gold Luster | – | – | 0 |
| DB0119 | TransparentYellow Gold Luster | – | – | 0 |
| DB0120 | TransparentOrange Gold Luster | 0 | 0 | 0 |
| DB0121 | Transparent Lt. Topaz Gold Luster | X | – | – |
| DB0122 | Transparent Lt. Topaz Gold Luster AB | 0 | 0 | 0 |
| DB0123 | Transparent Lt. Topaz Gold Luster Smoke | X | – | – |
| DB0124 | Transparent Yellow Gold Luster Lime | – | – | 0 |
| DB0125 | Transparent Green Gold Luster AB | 0 | 0 | 0 |
| DB0126 | Transparent Orange Gold Luster AB | 0 | 0 | 0 |
| DB0127 | Transparent Green Gold Luster AB | 0 | 0 | 0 |
| DB0128 | Transparent Cobalt Gold Luster AB | 0 | 0 | 0 |
| DB0129 | Transparent Orange Gold Luster Red Brown | 0 | 0 | 0 |
| DB0131 | Opaque Green Gold Luster | 0 | 0 | 0 |
| DB0132 | Opaque Lt. Blue Gold Luster | 0 | 0 | 0 |
| DB0133 | Opaque Yellow Gold Luster AB | 0 | 0 | 0 |
| DB0134 | Opaque Lt. Blue Gold Luster AB | 0 | 0 | 0 |
| DB0135 | Opaque Cobalt Gold Luster AB | 0 | 0 | 0 |
| DB0141 | Transparent (Transparent) Crystal | 0 | 0 | 0 |
| DB0144 | Silver Lined (S/L) Amber | – | – | – |
| DB0145 | Silver Lined (S/L) Yellow | – | – | – |
| DB0146 | Silver Lined (S/L) Lilac | – | – | – |
| DB0147 | Silver Lined (S/L) Peridot | – | – | – |
| DB0148 | Silver Lined (S/L) Dark Green | – | – | – |
| DB0149 | Silver Lined (S/L) Capri Blue | – | – | – |
| DB0150 | Silver Lined (S/L) Brown | – | – | – |
| DB0151 | Transparent Orange AB | 0 | 0 | 0 |
| DB0152 | Transparent Green AB | 0 | 0 | 0 |
| DB0157 | Opaque Ivory AB | 0 | 0 | 0 |
| DB0158 | Opaque Lilac AB | 0 | 0 | 0 |
| DB0159 | Opaque Coral AB | 0 | 0 | 0 |
| DB0160 | Opaque Yellow AB | 0 | 0 | 0 |
| DB0161 | Opaque Orange AB | 0 | 0 | 0 |
| DB0162 | Opaque Red AB | 0 | 0 | 0 |
| DB0163 | Opaque Green AB | 0 | 0 | 0 |
| DB0164 | Opaque Lt. Blue AB | 0 | 0 | 0 |
| DB0165 | Opaque Cobalt AB | 0 | 0 | 0 |
| DB0166 | Opaque Turquoise AB | 0 | 0 | 0 |
| DB0167 | Opaque Lt. Lapis AB | 0 | 0 | 0 |
| DB0168 | Opaque Grey AB | 0 | 0 | 0 |
| DB0169 | Opaque Lime AB | 0 | 0 | 0 |
| DB0170 | Transparent Amber AB | 0 | 0 | 0 |
| DB0171 | Transparent Yellow AB | 0 | 0 | 0 |
| DB0172 | Transparent Red AB | 0 | 0 | 0 |
| DB0173 | Transparent Lilac AB | 0 | 0 | 0 |
| DB0174 | Transparent Peridot AB | 0 | 0 | 0 |
| DB0175 | TransparentDark. Green AB | 0 | 0 | 0 |
| DB0176 | Transparent Aqua AB | 0 | 0 | 0 |
| DB0177 | Transparent Capri Blue AB | 0 | 0 | 0 |
| DB0178 | Transparent Cobalt AB | 0 | 0 | 0 |
| DB0179 | Transparent Grey AB | 0 | 0 | 0 |
| DB0180 | Transparent Brown AB | 0 | 0 | 0 |
| DB0181 | Transparent Lt.Topaz Copper Lined | – | X | – |
| DB0182 | Transparent Green Copper Lined | – | X | – |
| DB0183 | Transparent Cobalt Copper Lined | – | X | – |
| DB0184 | Transparent Grey Copper Lined | – | X | – |
| DB0191 | Opal Copper Lined | – | X | – |
| DB0200 | Opaque White | 0 | 0 | 0 |
| | | | | |
| --- | --- | --- | --- | --- |
| Col No. | Color Description | A | B | C |
| DB0201 | Opaque White Luster | 0 | 0 | 0 |
| DB0202 | Opaque White AB | 0 | 0 | 0 |
| DB0203 | Opaque White Glazed Luster | 0 | – | 0 |
| DB0204 | Opaque White Glazed Luster | 0 | – | 0 |
| DB0205 | Opaque White Glazed Luster | 0 | – | 0 |
| DB0206 | Opaque Glazed Luster Pink | 0 | 0 | 0 |
| DB0207 | Opaque White Gold Luster | 0 | 0 | 0 |
| DB0208 | Opaque White Gold Luster | 0 | – | 0 |
| DB0209 | Opaque White Glazed Luster | 0 | 0 | 0 |
| DB0210 | Opaque White Glazed Luster | 0 | – | 0 |
| DB0211 | Opaque White Glazed Luster | 0 | – | 0 |
| DB0214 | Opaque Red AB | 0 | 0 | 0 |
| DB0215 | Opaque Lt. Blue AB | 0 | 0 | 0 |
| DB0216 | Opaque Cobalt AB | 0 | 0 | 0 |
| DB0217 | Opaque Lt.Blue Glazed Luster | 0 | – | 0 |
| DB0218 | Opaque Lt.Blue Glazed Luster | 0 | – | 0 |
| DB0220 | Opal White | 0 | 0 | 0 |
| DB0221 | Opal Silver Lined (S/L) | – | – | – |
| DB0222 | Opal Rainbow | 0 | 0 | 0 |
| DB0223 | Opal Silver Lined Rainbow | – | – | – |
| DB0230 | Opal 24Kt Gold Lined | 0 | 0 | – |
| DB0231 | Ceylon White | 0 | 0 | 0 |
| DB0232 | Ceylon Inside-Dyed Color | 0 | 0 | – |
| DB0233 | Ceylon Inside-Dyed Color | 0 | 0 | – |
| DB0234 | Ceylon Inside-Dyed Color | – | 0 | X |
| DB0235 | Ceylon Inside-Dyed Color | 0 | 0 | – |
| DB0236 | Ceylon Inside-Dyed Color | 0 | 0 | – |
| DB0237 | Ceylon Inside-Dyed Color | – | 0 | X |
| DB0238 | Ceylon Inside-Dyed Color | 0 | 0 | – |
| DB0239 | Ceylon Inside-Dyed Color | – | 0 | X |
| DB0240 | Ceylon Inside-Dyed Color | – | 0 | X |
| DB0241 | Ceylon Inside-Dyed Color | – | 0 | X |
| DB0242 | Ceylon Inside-Dyed Color | – | 0 | X |
| DB0243 | Ceylon Inside-Dyed Color | 0 | 0 | – |
| DB0244 | Ceylon Inside-Dyed Color | – | 0 | X |
| DB0245 | Ceylon Inside-Dyed Color | – | 0 | X |
| DB0246 | Ceylon Inside-Dyed Color | – | 0 | X |
| DB0247 | Ceylon Inside-Dyed Color | – | 0 | X |
| DB0248 | Ceylon Inside-Dyed Color | – | 0 | X |
| DB0249 | Ceylon Inside-Dyed Color | – | 0 | X |
| DB0250 | Ceylon Inside-Dyed Color | 0 | 0 | – |
| DB0251 | Opaque White Gold Luster AB Grey | 0 | – | 0 |
| DB0252 | Opaque White Gold Luster Grey | 0 | – | 0 |
| DB0253 | Opaque White Gold Luster Purple | 0 | – | 0 |
| DB0254 | Opaque White Gold Luster Bronze | – | – | – |
| DB0256 | Ceylon Inside-Dyed Color | 0 | 0 | – |
| DB0257 | Ceylon Inside-Dyed Color | – | 0 | X |
| DB0261 | Opaque Ivory Glazed Luster | 0 | 0 | 0 |
| DB0262 | Opaque Lime Glazed Luster | 0 | – | 0 |
| DB0263 | Opaque Lime Glazed Luster | – | – | 0 |
| DB0264 | Opaque Turquoise Glazed Luster | – | – | 0 |
| DB0265 | Opaque Lilac Glazed Luster | 0 | – | 0 |
| DB0266 | Opaque Lt. Lapis Glazed Luster | 0 | – | 0 |
| DB0267 | Opaque Lt. Lapis Glazed Luster | – | – | 0 |
| DB0268 | Opaque Dark Gray Luster | – | – | 0 |
| DB0271 | Inside Dyed Color | 0 | 0 | – |
| DB0272 | Inside Dyed Color | – | 0 | X |
| DB0273 | Inside Dyed Color | 0 | 0 | – |
| DB0274 | Inside Dyed Color | 0 | 0 | – |
| DB0275 | Inside Dyed Color | – | 0 | X |
| DB0276 | Inside Dyed Color AB | – | 0 | X |
| DB0277 | Inside Dyed Color | – | 0 | X |
| DB0278 | Inside Dyed Color | 0 | 0 | – |
| DB0279 | Inside Dyed Color | – | 0 | X |
| DB0280 | Inside Dyed Color | 0 | 0 | – |
| DB0281 | Inside Dyed Color | – | 0 | X |
| DB0282 | Inside Dyed Color | – | 0 | X |
| DB0283 | Inside Dyed Color | – | 0 | X |
| DB0284 | Inside Dyed Color | 0 | 0 | – |
| DB0285 | Inside Dyed Color | – | 0 | X |
| DB0286 | Inside Dyed Color | – | 0 | X |
| DB0287 | Inside Dyed Color | – | 0 | X |
| DB0288 | Inside Dyed Color | 0 | 0 | – |
| DB0295 | Inside Dyed Color | 0 | 0 | – |
| DB0296 | Inside Dyed Color | – | 0 | X |
| DB0297 | Inside Dyed-Color | – | 0 | X |
| | | | | |
| --- | --- | --- | --- | --- |
| Col No. | Color Description | A | B | C |
| DB0301 | Matte Metallic Black Luster | 0 | 0 | 0 |
| DB0306 | Matte Glazed Luster | 0 | – | – |
| DB0307 | Matte Black AB | 0 | 0 | 0 |
| DB0310 | Matte Black | 0 | 0 | 0 |
| DB0311 | Matte Metallic Olive Green | 0 | – | 0 |
| DB0312 | Matte Metallic Copper AB | 0 | 0 | 0 |
| DB0321 | Matte Nickel Plated | 0 | – | 0 |
| DB0322 | Matte Metallic Bronze | 0 | – | 0 |
| DB0323 | Matte Metallic Purple Iris | 0 | 0 | 0 |
| DB0324 | Matte Metallic Green AB | 0 | 0 | 0 |
| DB0325 | Matte Metallic Blue AB | 0 | 0 | 0 |
| DB0327 | Matte Metallic Bronze Dark Green | 0 | 0 | 0 |
| DB0331 | Matte 24KT Gold Plated | 0 | – | 0 |
| DB0334 | Matte 24KT. Lt. Gold Plated | 0 | – | 0 |
| DB0335 | Matte Galvanized Silver | X | X | X |
| DB0336 | Matte Tin Plated | 0 | – | 0 |
| DB0338 | Matte Palladium Plated | 0 | – | 0 |
| DB0340 | Matte Copper Plated | X | X | X |
| DB0351 | Matte Chalk White | 0 | 0 | 0 |
| DB0352 | Matte Opaque Glazed Luster Ivory | 0 | – | – |
| DB0353 | Matte Opaque Glazed Luster Lt.Brown | 0 | – | – |
| DB0354 | Matte Opaque Gold Luster Orange | 0 | 0 | 0 |
| DB0355 | Matte Galvanized Silver | X | X | X |
| DB0356 | Matte Opaque Gold Luster Lt. Purple | X | X | – |
| DB0357 | Matte Opaque Glazed Luster Lt. Grey | 0 | – | – |
| DB0361 | Matte Opaque Cobalt Luster | 0 | 0 | 0 |
| DB0362 | Matte Opaque Red Luster | 0 | 0 | 0 |
| DB0371 | Matte Opaque Yellow Gold Luster | 0 | – | 0 |
| DB0372 | Matte Opaque Yellow Gold Luster AB | 0 | 0 | 0 |
| DB0373 | Matte Opaque Green Gold Luster AB | 0 | 0 | 0 |
| DB0374 | Matte Opaque Lt. Blue Glazed Luster | 0 | – | – |
| DB0375 | Matte Opaque Lt. Blue Glazed Luster | X | – | – |
| DB0376 | Matte Opaque Lt. Blue Gold Luster AB | 0 | 0 | 0 |
| DB0377 | Matte Opaque Cobalt Glazed Luster | 0 | – | – |
| DB0378 | Matte Opaque Red Glazed Luster | 0 | – | – |
| DB0379 | Matte Opaque Gold Luster Lt. Purple | X | X | – |
| DB0380 | Matte Opaque Gold Luster Bronze AB | 0 | 0 | 0 |
| DB0381 | Matte Crystal Glazed Luster | X | – | – |
| DB0382 | Matte Crystal Glazed Luster | 0 | – | – |
| DB0383 | Matte Crystal Glazed Luster | X | – | – |
| DB0384 | Matte Lt.Topaz Glazed Luster | X | – | – |
| DB0385 | Matte Aqua Glazed Luster | 0 | – | – |
| DB0386 | Matte Aqua Glazed Luster | 0 | – | – |
| DB0387 | Matte Aqua Glazed Luster | 0 | – | – |
| DB0388 | Matte Opaque Ivory Glazed Luster | X | – | – |
| DB0389 | Matte Opaque Ivory Glazed Luster | 0 | – | – |
| DB0390 | Matte Opaque Lime Glazed Luster | 0 | – | – |
| DB0391 | Matte Opaque Lime Glazed Luster | X | – | – |
| | | | | |
| --- | --- | --- | --- | --- |
| Col No. | Color Description | A | B | C |
| DB0410 | Galvanized Dyed-Color | 0 | X | X |
| DB0411 | Galvanized Dyed-Color | 0 | X | X |
| DB0412 | Galvanized Dyed-Color | 0 | X | X |
| DB0413 | Galvanized Dyed-Color | 0 | X | X |
| DB0414 | Galvanized Dyed-Color | 0 | X | X |
| DB0415 | Galvanized Dyed-Color | 0 | X | X |
| DB0416 | Galvanized Dyed-Color | 0 | X | X |
| DB0417 | Galvanized Dyed-Color | 0 | X | X |
| DB0418 | Galvanized Dyed-Color | 0 | X | X |
| DB0419 | Galvanized Dyed-Color | 0 | X | X |
| DB0420 | Galvanized Dyed-Color | 0 | X | X |
| DB0421 | Galvanized Dyed-Color | – | X | X |
| DB0422 | Galvanized Dyed-Color | – | X | – |
| DB0423 | Galvanized Dyed-Color | 0 | X | X |
| DB0424 | Galvanized Dyed-Color | 0 | X | X |
| DB0425 | Galvanized Dyed-Color | – | X | – |
| DB0426 | Galvanized Dyed-Color | 0 | X | X |
| DB0427 | Galvanized Dyed-Color | 0 | X | X |
| DB0428 | Galvanized Dyed-Color | – | X | X |
| DB0429 | Galvanized Dyed-Color | 0 | X | X |
| DB0430 | Galvanized Dyed-Color | 0 | X | X |
| DB0431 | Galvanized Dyed-Color | – | X | X |
| DB0432 | Galvanized Dyed-Color | – | X | X |
| DB0433 | Galvanized Dyed Color | 0 | X | X |
| DB0434 | Galvanized Dyed Color | 0 | X | X |
| DB0435 | Galvanized Dyed Color | 0 | X | X |
| DB0436 | Galvanized Dyed Color | – | X | X |
| DB0451 | Nickel Plated Dyed-Color | 0 | X | X |
| DB0452 | Nickel Plated Dyed-Color | 0 | X | X |
| DB0453 | Nickel Plated Dyed-Color | 0 | X | X |
| DB0454 | Nickel Plated Dyed-Color | 0 | X | X |
| DB0455 | Nickel Plated Dyed-Color | 0 | X | X |
| DB0456 | Nickel Plated Dyed-Color | 0 | X | X |
| DB0457 | Nickel Plated Dyed-Color | 0 | X | X |
| DB0458 | Nickel Plated Dyed-Color | 0 | X | X |
| DB0459 | Nickel Plated Dyed-Color | 0 | X | X |
| DB0460 | Nickel Plated Dyed-Color | 0 | X | X |
| DB0461 | Nickel Plated Dyed-Color | – | X | X |
| DB0462 | Nickel Plated Dyed-Color | – | X | X |
| DB0463 | Nickel Plated Dyed-Color | – | X | – |
| DB0464 | Nickel Plated Dyed-Color | 0 | X | X |
| DB0465 | Nickel Plated Dyed-Color | – | X | X |
| | | | | |
| --- | --- | --- | --- | --- |
| Col No. | Color Description | A | B | C |
| DB0501 | 24KT Gold Plated AB | 0 | 0 | 0 |
| DB0502 | Rhodium Plated AB | 0 | 0 | 0 |
| DB0505 | 24KT Gold Plated AB | 0 | 0 | 0 |
| DB0506 | 24KT Gold Plated AB | 0 | 0 | 0 |
| DB0507 | 24Kt Lt. Gold Plated AB | 0 | 0 | 0 |
| DB0508 | 24Kt Lt. Gold Plated AB | 0 | 0 | 0 |
| DB0514 | Nickel Plated Blue AB | 0 | 0 | 0 |
| DB0541 | Palladium Plated AB | 0 | X | X |
| DB0542 | Palladium Plated AB | 0 | X | X |
| DB0543 | Palladium Plated AB | 0 | X | X |
| DB0544 | Palladium Plated AB | 0 | X | X |
| DB0545 | Palladium Plated AB | 0 | X | X |
| DB0546 | Palladium Plated AB | 0 | X | X |
| DB0551 | Silver Plated | 0 | X | X |
| | | | | |
| --- | --- | --- | --- | --- |
| Col No. | Color Description | A | B | C |
| DB0601 | Silver Lined (S/L) Orange Dyed Color | – | – | X |
| DB0602 | Silver Lined (S/L) Red Dyed Color | – | – | – |
| DB0603 | Silver Lined (S/L) Red Dyed Color | – | – | X |
| DB0604 | Silver Lined (S/L) Orange Dyed Color | 0 | – | X |
| DB0605 | Silver Lined (S/L) Green Dyed Color | 0 | – | X |
| DB0606 | Silver Lined (S/L) Green Dyed Color | – | – | X |
| DB0607 | Silver Lined (S/L) Lt. Topaz Dyed Color | 0 | – | X |
| DB0608 | Silver Lined (S/L) Grey Dyed Color | 0 | – | X |
| DB0609 | Silver Lined (S/L) Cobalt Dyed Color | – | – | X |
| DB0610 | Silver Lined (S/L) Cobalt Dyed Color | – | – | – |
| DB0611 | Silver Lined (S/L) Green Dyed Color | – | – | – |
| DB0612 | Silver Lined (S/L) Orange Dyed Color | 0 | – | X |
| DB0613 | Silver Lined (S/L) Grey Dyed Color | 0 | – | X |
| DB0621 | Opal Silver Lined (S/L) Dyed Color | – | – | X |
| DB0622 | Opal Silver Lined (S/L) Dyed Color | 0 | – | X |
| DB0623 | Opal Silver Lined (S/L) Dyed Color | 0 | – | X |
| DB0624 | Opal Silver Lined (S/L) Dyed Color | 0 | – | X |
| DB0625 | Opal Silver Lined (S/L) Dyed Color | 0 | – | X |
| DB0626 | Opal Silver Lined (S/L) Dyed Color | 0 | – | X |
| DB0627 | Opal Silver Lined (S/L) Dyed Color | 0 | – | X |
| DB0628 | Opal Silver Lined (S/L) Dyed Color | 0 | – | X |
| DB0629 | Opal Silver Lined (S/L) Dyed Color | 0 | – | X |
| DB0630 | Opal Silver Lined (S/L) Dyed Color | 0 | – | X |
| DB0631 | Opal Silver Lined (S/L) Dyed Color | 0 | – | X |
| DB0635 | Silk | 0 | 0 | 0 |
| DB0651 | Opaque Yellow Dyed-Color | 0 | X | X |
| DB0652 | Opaque Lt.Blue Dyed-Color | 0 | X | X |
| DB0653 | Opaque Yellow Dyed Color | – | X | X |
| DB0654 | Opaque Red Dyed Color | – | X | X |
| DB0655 | Opaque Green Dyed Color | 0 | X | X |
| DB0656 | Opaque Green Dyed Color | 0 | X | X |
| DB0657 | Opaque Green Dyed Color | 0 | X | X |
| DB0658 | Opaque Lt. Blue Dyed-Color | 0 | X | X |
| DB0659 | Opaque Lt. Blue Dyed-Color | 0 | X | X |
| DB0660 | Opaque Lt. Blue Dyed-Color | 0 | X | X |
| DB0661 | Opaque Lt. Blue Dyed-Color | – | X | X |
| DB0662 | Opaque Lt. Blue Dyed-Color | – | X | X |
| DB0663 | Opaque Green Dyed Color | 0 | X | X |
| DB0664 | Opaque Yellow Dyed-Color | 0 | X | X |
| DB0670 | Silk AB | 0 | 0 | 0 |
| DB0671 | Silk Silver Lined (S/L) | – | – | – |
| DB0672 | Silk Glazed Luster | – | – | 0 |
| DB0673 | Silk Glazed Luster | – | – | 0 |
| DB0674 | Silk Glazed Luster | – | – | 0 |
| DB0675 | Silk Glazed Color | 0 | 0 | 0 |
| DB0676 | Silk Glazed Color | 0 | 0 | 0 |
| DB0677 | Silk Glazed Color | 0 | 0 | 0 |
| DB0678 | Silk Glazed Color | 0 | 0 | 0 |
| DB0679 | Silk Glazed Color | 0 | 0 | 0 |
| DB0680 | Silk Silverline Rainbow | – | – | – |
| DB0681 | Semi Matte S/L Orange Dyed-Color | – | – | X |
| DB0682 | Semi Matte S/L Orange Dyed-Color | – | – | X |
| DB0683 | Semi-Matte S/L Red Dyed-Color | – | – | X |
| DB0684 | Semi-Matte S/L Lt. Topaz Dyed-Color | – | – | X |
| DB0685 | Semi-Matte S/L Lt. Topaz Dyed-Color | – | – | X |
| DB0686 | Semi-Matte S/L Lt. Topaz Dyed-Color | – | – | X |
| DB0687 | Semi-Matte S/L Lt. Topaz Dyed-Color | – | – | X |
| DB0688 | Semi-Matte S/L Green Dyed-Color | – | – | X |
| DB0689 | Semi-Matte S/L Grey Dyed-Color | – | – | X |
| DB0690 | Semi-Matte S/L Green Dyed-Color | – | – | X |
| DB0691 | Semi-Matte S/L Aqua Dyed-Color | – | – | X |
| DB0692 | Semi-Matte S/L Aqua Dyed-Color | – | – | X |
| DB0693 | Semi-Matte S/L Cobalt Dyed-Color | – | – | X |
| DB0694 | Semi-Matte S/L Aqua Dyed-Color | – | – | X |
| DB0695 | Semi-Matte S/L Grey Dyed-Color | – | – | X |
| DB0696 | Semi-Matte S/L Cobalt Dyed-Color | – | – | X |
| DB0697 | Semi-Matte S/L Grey Dyed-Color | – | – | X |
| | | | | |
| --- | --- | --- | --- | --- |
| Col No. | Color Description | A | B | C |
| DB0701 | Transparent Crystal | 0 | 0 | 0 |
| DB0702 | Transparent Lt. Topaz | 0 | 0 | 0 |
| DB0703 | Transparent Orange | 0 | 0 | 0 |
| DB0704 | Transparent Red | 0 | 0 | 0 |
| DB0705 | Transparent Green | 0 | 0 | 0 |
| DB0706 | Transparent Aqua | 0 | 0 | 0 |
| DB0707 | Transparent Cobalt | 0 | 0 | 0 |
| DB0708 | Transparent Grey | 0 | 0 | 0 |
| DB0709 | Transparent Amber | 0 | 0 | 0 |
| DB0710 | Transparent Yellow | 0 | 0 | 0 |
| DB0711 | Transparent Lilac | 0 | 0 | 0 |
| DB0712 | Transparent Peridot | 0 | 0 | 0 |
| DB0713 | Transparent Dark Green | 0 | 0 | 0 |
| DB0714 | Transparent Capri Blue | 0 | 0 | 0 |
| DB0715 | Transparent dark Brown | 0 | 0 | 0 |
| DB0721 | Opaque Yellow | 0 | 0 | 0 |
| DB0722 | Opaque Orange | 0 | 0 | 0 |
| DB0723 | Opaque Red | 0 | 0 | 0 |
| DB0724 | Opaque Green | 0 | 0 | 0 |
| DB0725 | Opaque Lt. Blue | 0 | 0 | 0 |
| DB0726 | Opaque Cobalt | 0 | 0 | 0 |
| DB0727 | Opaque Coral | 0 | 0 | 0 |
| DB0728 | Opaque Lilac | 0 | 0 | 0 |
| DB0729 | Opaque Turquoise | 0 | 0 | 0 |
| DB0730 | Opaque Lt. Lapis | 0 | 0 | 0 |
| DB0731 | Opaque Grey | 0 | 0 | 0 |
| DB0732 | Opaque Ivory | 0 | 0 | 0 |
| DB0733 | Opaque Yellow | 0 | 0 | 0 |
| DB0734 | Opaque Dark Brown | 0 | 0 | 0 |
| DB0735 | Opaque Cocoa | 0 | 0 | 0 |
| DB0741 | Matte Transparent Crystal | 0 | 0 | 0 |
| DB0742 | Matte Transparent Lt. Topaz | 0 | 0 | 0 |
| DB0743 | Matte Transparent Yellow | 0 | 0 | 0 |
| DB0744 | Matte TransparentOrange | 0 | 0 | 0 |
| DB0745 | Matte Transparent Red | 0 | 0 | 0 |
| DB0746 | Matte Transparent Green | 0 | 0 | 0 |
| DB0747 | Matte Transparent Aqua | 0 | 0 | 0 |
| DB0748 | Matte Transparent Cobalt | 0 | 0 | 0 |
| DB0749 | Matte Transparent Grey | 0 | 0 | 0 |
| DB0751 | Matte Opaque Yellow | 0 | 0 | 0 |
| DB0752 | Matte Opaque Orange | 0 | 0 | 0 |
| DB0753 | Matte Opaque Red | 0 | 0 | 0 |
| DB0754 | Matte Opaque Green | 0 | 0 | 0 |
| DB0755 | Matte Opaque Lt. Blue | 0 | 0 | 0 |
| DB0756 | Matte Opaque Cobalt | 0 | 0 | 0 |
| DB0757 | Matte Opaque Coral | 0 | 0 | 0 |
| DB0758 | Matte Opaque Lilac | 0 | 0 | 0 |
| DB0759 | Matte Opaque Turquoise | 0 | 0 | 0 |
| DB0760 | Matte Opaque Lapis | 0 | 0 | 0 |
| DB0761 | Matte Opaque Grey | 0 | 0 | 0 |
| DB0762 | Matte Opaque Ivory | 0 | 0 | 0 |
| DB0763 | Matte Opaque Lime | 0 | 0 | 0 |
| DB0764 | Matte Transparent Amber | 0 | 0 | 0 |
| DB0765 | Matte Transparent Lilac | 0 | 0 | 0 |
| DB0766 | Matte Transparent Peridot | 0 | 0 | 0 |
| DB0767 | Matte Transparent Dk. Green | 0 | 0 | 0 |
| DB0768 | Matte Transparent Capri Blue | 0 | 0 | 0 |
| DB0769 | Matte Transparent Brown | 0 | 0 | 0 |
| DB0771 | Matte Transparent Lt. Topaz Dyed-Color | – | – | X |
| DB0772 | Matte Transparent Aqua Dyed-Color | – | – | X |
| DB0773 | Matte Transparent Lt. Topaz Dyed-Color | – | – | X |
| DB0774 | Matte Transparent Red Dyed-Color | – | – | X |
| DB0775 | Matte Transparent Lt. Topaz Dyed-Color | – | – | X |
| DB0776 | Matte Transparent Green Dyed-Color | – | – | X |
| DB0777 | Matte Transparent Crystal Dyed-Color | – | – | X |
| DB0778 | Matte Transparent Lt. Topaz Dyed-Color | – | – | X |
| DB0779 | Matte Transparent Lt. Topaz Dyed-Color | 0 | – | X |
| DB0780 | Matte Transparent Crystal Dyed-Color | 0 | – | X |
| DB0781 | Matte Transparent Yellow Dyed-Color | 0 | – | X |
| DB0782 | Matte Transparent Aqua Dyed-Color | – | – | X |
| DB0783 | Matte Transparent Aqua Dyed-Color | – | – | X |
| DB0784 | Matte Transparent Aqua Dyed-Color | – | – | X |
| DB0785 | Matte Transparent Aqua Dyed-Color | 0 | – | X |
| DB0786 | Matte Transparent Aqua Dyed-Color | 0 | – | X |
| DB0787 | Matte Transparent Crystal Dyed-Color | 0 | – | X |
| DB0788 | Matte Transparent Lt. Topaz Dyed-Color | 0 | – | X |
| DB0791 | Matte Opaque Orange Dyed-Color | – | – | X |
| DB0792 | Matte Opaque Lt. Blue Dyed-Color | – | – | X |
| DB0793 | Matte Opaque Lt. Blue Dyed-Color | 0 | – | X |
| DB0794 | Matte Opaque Orange Dyed-Color | 0 | – | X |
| DB0795 | Matte Opaque Orange Dyed-Color | – | – | X |
| DB0796 | Matte Opaque Red Dyed-Color | – | – | X |
| DB0797 | Matte Opaque Green Dyed-Color | 0 | – | X |
| DB0798 | Matte Opaque Lt. Blue Dyed-Color | – | – | X |
| DB0799 | Matte Opaque Lt. Blue Dyed-Color | – | – | X |
| DB0800 | Matte Opaque White Dyed-Color | – | – | X |
| | | | | |
| --- | --- | --- | --- | --- |
| Col No. | Color Description | A | B | C |
| DB0820 | Silk Glazed Color | 0 | 0 | 0 |
| DB0821 | Silk Glazed Color | 0 | 0 | 0 |
| DB0822 | Silk Glazed Color | 0 | 0 | 0 |
| DB0823 | Silk Glazed Color | 0 | 0 | 0 |
| DB0824 | Silk Glazed Color | 0 | 0 | 0 |
| DB0825 | Silk Glazed Color | 0 | 0 | 0 |
| DB0826 | Silk Glazed Color | 0 | 0 | 0 |
| DB0827 | Silk Glazed Color | 0 | 0 | 0 |
| DB0828 | Silk Glazed Color | 0 | 0 | 0 |
| DB0829 | Silk Glazed Color | 0 | 0 | 0 |
| DB0830 | Silk Glazed Color | 0 | 0 | 0 |
| DB0831 | Silk Glazed Color | 0 | 0 | 0 |
| DB0832 | Silk Glazed Color | 0 | 0 | 0 |
| DB0833 | Silk Glazed Color | 0 | 0 | 0 |
| DB0851 | Matte Crystal AB | 0 | 0 | 0 |
| DB0852 | Matte Transparent Lt. Topaz AB | 0 | 0 | 0 |
| DB0853 | Matte Transparent Amber AB | 0 | 0 | 0 |
| DB0854 | Matte Transparent Yellow AB | 0 | 0 | 0 |
| DB0855 | Matte Transparent Orange AB | 0 | 0 | 0 |
| DB0856 | Matte Transparent Red AB | 0 | 0 | 0 |
| DB0857 | Matte Transparent Lilac AB | 0 | 0 | 0 |
| DB0858 | Matte Transparent Peridot AB | 0 | 0 | 0 |
| DB0859 | Matte Transparent Dk. Green AB | 0 | 0 | 0 |
| DB0860 | Matte Transparent Peridot AB | 0 | 0 | 0 |
| DB0861 | Matte Transparent Aqua AB | 0 | 0 | 0 |
| DB0862 | Matte Transparent Capri Blue AB | 0 | 0 | 0 |
| DB0863 | Matte Transparent Grey AB | 0 | 0 | 0 |
| DB0864 | Matte Transparent Cobalt AB | 0 | 0 | 0 |
| DB0865 | Matte Transparent Brown AB | 0 | 0 | 0 |
| DB0866 | Matte Transparent Dark Topaz AB | 0 | 0 | 0 |
| DB0867 | Matte Transparent Ruby AB | 0 | 0 | 0 |
| DB0868 | Matte Transparent Peach AB | 0 | 0 | 0 |
| DB0869 | Matte Transparent Wine AB | 0 | 0 | 0 |
| DB0870 | Matte Transparent Smoke Amethyst AB | 0 | 0 | 0 |
| DB0871 | Matte Black AB | 0 | 0 | 0 |
| DB0872 | Matte Opaque Orange AB | 0 | 0 | 0 |
| DB0873 | Matte Opaque Coral AB | 0 | 0 | 0 |
| DB0874 | Matte Orange Red AB | 0 | 0 | 0 |
| DB0875 | Matte Opaque Lilac AB | 0 | 0 | 0 |
| DB0876 | Matte Opaque Lime AB | 0 | 0 | 0 |
| DB0877 | Matte Opaque Green AB | 0 | 0 | 0 |
| DB0878 | Matte Opaque Turquoise AB | 0 | 0 | 0 |
| DB0879 | Matte Opaque Lt. Blue AB | 0 | 0 | 0 |
| DB0880 | Matte Opaque Cobalt AB | 0 | 0 | 0 |
| DB0881 | Matte Opaque Lapis AB | 0 | 0 | 0 |
| DB0882 | Matte Opaque Grey AB | 0 | 0 | 0 |
| DB0883 | Matte Opaque Ivory AB | 0 | 0 | 0 |
| DB0884 | Matte Opaque Dk. Brown AB | 0 | 0 | 0 |
| | | | | |
| --- | --- | --- | --- | --- |
| Col No. | Color Description | A | B | C |
| DB0901 | Inside Dyed-Color | 0 | 0 | – |
| DB0902 | Inside Dyed-Color | 0 | 0 | – |
| DB0903 | Inside Dyed-Color | 0 | 0 | – |
| DB0904 | Inside Dyed-Color | 0 | 0 | – |
| DB0905 | Inside Dyed-Color | 0 | 0 | – |
| DB0906 | Inside Dyed-Color | 0 | 0 | – |
| DB0907 | Inside Dyed-Color | 0 | 0 | – |
| DB0908 | Inside Dyed-Color | 0 | 0 | – |
| DB0909 | Inside Dyed-Color | 0 | 0 | – |
| DB0910 | Inside Dyed-Color | 0 | 0 | – |
| DB0911 | Inside Dyed-Color | 0 | 0 | – |
| DB0912 | Inside Dyed-Color | 0 | 0 | – |
| DB0913 | Inside Dyed-Color | 0 | 0 | – |
| DB0914 | Inside Dyed-Color | 0 | 0 | – |
| DB0915 | Inside Dyed-Color | 0 | 0 | – |
| DB0916 | Inside Dyed-Color | 0 | 0 | – |
| DB0917 | Inside Dyed-Color | 0 | 0 | – |
| DB0918 | Inside Dyed-Color | 0 | 0 | – |
| DB0919 | Inside Dyed-Color | 0 | 0 | – |
| DB0920 | Inside Dyed-Color | 0 | 0 | – |
| DB0921 | Inside Dyed-Color | 0 | 0 | – |
| DB0922 | Inside Dyed-Color | 0 | 0 | – |
| DB0923 | Inside Dyed-Color | 0 | 0 | – |
| DB0924 | Inside Dyed-Color | 0 | 0 | – |
| DB0925 | Inside Dyed-Color | 0 | 0 | – |
| DB0981 | Inside Dyed Color Mixed | 0 | 0 | – |
| DB0982 | Inside Dyed Color Mixed | 0 | 0 | – |
| DB0983 | Inside Dyed Color Mixed | 0 | 0 | – |
| DB0984 | Inside Dyed Color Mixed | 0 | 0 | – |
| DB0985 | Inside Dyed Color Mixed | 0 | 0 | – |
| DB0986 | Inside Dyed Color Mixed | 0 | 0 | – |
| | | | | |
| --- | --- | --- | --- | --- |
| Col No. | Color Description | A | B | C |
| DB1001 | Black AB | 0 | 0 | 0 |
| DB1002 | Metallic Gold Luster | 0 | 0 | 0 |
| DB1003 | Metallic Gold Luster AB | 0 | 0 | 0 |
| DB1004 | Metallic Gold Luster AB | 0 | 0 | 0 |
| DB1005 | Metallic Gold Luster AB | 0 | 0 | 0 |
| DB1006 | Metallic Gold Luster AB | 0 | 0 | 0 |
| DB1010 | Metallic Gold Luster AB | 0 | 0 | 0 |
| DB1011 | Metallic Gold Luster AB | 0 | 0 | 0 |
| DB1012 | Metallic Gold Luster AB | 0 | 0 | 0 |
| DB1013 | Metallic Gold Luster AB | 0 | 0 | 0 |
| DB1014 | Metallic Gold Luster AB | 0 | 0 | 0 |
| DB1015 | Metallic Gold Luster AB | 0 | 0 | 0 |
| DB1016 | Metallic Gold Luster | 0 | 0 | 0 |
| DB1051 | Matte Metallic Gold Luster | 0 | 0 | 0 |
| DB1052 | Matte Metallic Gold Luster AB | 0 | 0 | 0 |
| DB1053 | Matte Metallic Gold Luster AB | 0 | 0 | 0 |
| DB1054 | Matte Metallic Gold Luster AB | 0 | 0 | 0 |
| DB1055 | Matte Metallic Gold Luster AB | 0 | 0 | 0 |
| DB1056 | Matte Metallic Gold Luster AB | 0 | 0 | 0 |
| DB1061 | Matte Metallic Gold Luster AB | 0 | 0 | 0 |
| DB1062 | Matte Metallic Gold Luster AB | 0 | 0 | 0 |
| DB1063 | Matte Metallic Gold Luster AB | 0 | 0 | 0 |
| DB1064 | Matte Metallic Gold Luster AB | 0 | 0 | 0 |
| DB1065 | Matte Metallic Gold Luster AB | 0 | 0 | 0 |
| DB1066 | Matte Metallic Gold Luster AB | 0 | 0 | 0 |
| DB1067 | Matte Metallic Gold Luster AB | 0 | 0 | 0 |
| | | | | |
| --- | --- | --- | --- | --- |
| Col No. | Color Description | A | B | C |
| DB1101 | Transparent Dark Topaz | 0 | 0 | 0 |
| DB1102 | Transparent Ruby | 0 | 0 | 0 |
| DB1103 | Transparent Peach | 0 | 0 | 0 |
| DB1104 | Transparent Dark Amethyst | 0 | 0 | 0 |
| DB1105 | Transparent Smoke Amethyst | 0 | 0 | 0 |
| DB1106 | Transparent Dark Peridot | 0 | 0 | 0 |
| DB1107 | Transparent Olive Green | 0 | 0 | 0 |
| DB1108 | Transparent Teal | 0 | 0 | 0 |
| DB1109 | Transparent Dark Aqua | 0 | 0 | 0 |
| DB1110 | Transparent Blue | 0 | 0 | 0 |
| DB1111 | Transparent Lt. Gray | 0 | 0 | 0 |
| DB1131 | Opaque Dark Ivory | 0 | 0 | 0 |
| DB1132 | Opaque Dark Yellow | 0 | 0 | 0 |
| DB1133 | Opaque Lt. Orange | 0 | 0 | 0 |
| DB1134 | Opaque Chocolate | 0 | 0 | 0 |
| DB1135 | Opaque Olive Green | 0 | 0 | 0 |
| DB1136 | Opaque Lt. Turquoise | 0 | 0 | 0 |
| DB1137 | Opaque Ice Blue | 0 | 0 | 0 |
| DB1138 | Opaque Lt. Lapis | 0 | 0 | 0 |
| DB1139 | Opaque Gray | 0 | 0 | 0 |
| DB1151 | Semi-Matte Galvanized | 0 | – | X |
| DB1152 | Semi-Matte Galvanized Dyed Color | 0 | – | X |
| DB1153 | Semi-Matte Galvanized Dyed Color | 0 | – | X |
| DB1154 | Semi-Matte Galvanized Dyed Color | 0 | – | X |
| DB1155 | Semi-Matte Galvanized Dyed Color | 0 | – | X |
| DB1156 | Semi-Matte Galvanized Dyed Color | 0 | – | X |
| DB1157 | Semi-Matte Galvanized Dyed Color | 0 | – | X |
| DB1158 | Semi-Matte Galvanized Dyed Color | 0 | – | X |
| DB1159 | Semi-Matte Galvanized Dyed Color | 0 | – | X |
| DB1162 | Matte Galvanized Dyed Color | 0 | – | X |
| DB1163 | Matte Galvanized Dyed Color | 0 | – | X |
| DB1164 | Matte Galvanized Dyed Color | 0 | – | X |
| DB1165 | Matte Galvanized Dyed Color | 0 | – | X |
| DB1166 | Matte Galvanized Dyed Color | 0 | – | X |
| DB1167 | Matte Galvanized Dyed Color | 0 | – | X |
| DB1168 | Matte Galvanized Dyed Color | 0 | – | X |
| DB1169 | Matte Galvanized Dyed Color | 0 | – | X |
| DB1170 | Matte Galvanized Dyed Color | 0 | – | X |
| DB1171 | Matte Galvanized Dyed Color | 0 | – | X |
| DB1172 | Matte Galvanized Dyed Color | 0 | – | X |
| DB1173 | Matte Galvanized Dyed Color | 0 | – | X |
| DB1174 | Matte Galvanized Dyed Color | 0 | – | X |
| DB1175 | Matte Galvanized Dyed Color | 0 | – | X |
| DB1181 | Semi-Matte Galvanized Dyed Color | 0 | – | X |
| DB1182 | Semi-Matte Galvanized Dyed Color | 0 | – | X |
| DB1183 | Semi-Matte Galvanized Dyed Color | 0 | – | X |
| DB1184 | Semi-Matte Galvanized Dyed Color | 0 | – | X |
| DB1185 | Semi-Matte Galvanized Dyed Color | 0 | – | X |
| DB1186 | Semi-Matte Galvanized Dyed Color | 0 | – | X |
| | | | | |
| --- | --- | --- | --- | --- |
| Col No. | Color Description | A | B | C |
| DB1201 | Dark Topza Silver Lined | – | – | – |
| DB1202 | Ruby Silver Lined | – | – | – |
| DB1203 | Peach Silver Lined | – | – | – |
| DB1204 | Dark Amethyst Silver Lined | – | – | – |
| DB1205 | Smoke Amethyst Silver Lined | – | – | – |
| DB1206 | Dark Peridot Silver Lined | – | – | – |
| DB1207 | Olive Green Silver Lined | – | – | – |
| DB1208 | Teal Silver Lined | – | – | – |
| DB1209 | Dark Aqua Silver Lined | – | – | – |
| DB1210 | Blue Silver Lined | – | – | – |
| DB1211 | Lt. Gray Silver Lined | – | – | – |
| DB1221 | TransparentDark Topaz Luster | 0 | 0 | 0 |
| DB1222 | Transparent Ruby Luster | 0 | 0 | 0 |
| DB1223 | Transparent Peach Luster | 0 | 0 | 0 |
| DB1224 | TransparentDark Amethyst Luster | 0 | 0 | 0 |
| DB1225 | Transparent Smoke Amethyst Luster | 0 | 0 | 0 |
| DB1226 | Transparent Dark Peridot Luster | 0 | 0 | 0 |
| DB1227 | Transparent Olive Green Luster | 0 | 0 | 0 |
| DB1228 | TransparentTeal Luster | 0 | 0 | 0 |
| DB1229 | Transparent Dark Aqua Luster | 0 | 0 | 0 |
| DB1230 | Transparent Blue Luster | 0 | 0 | 0 |
| DB1231 | Transparent Lt. Gray Luster | 0 | 0 | 0 |
| DB1241 | Transparent Dark Topaz AB | 0 | 0 | 0 |
| DB1242 | Transparent Ruby AB | 0 | 0 | 0 |
| DB1243 | Transparent Peach AB | 0 | 0 | 0 |
| DB1244 | TransparentDark Amethyst AB | 0 | 0 | 0 |
| DB1245 | Transparent Smoke Amethyst AB | 0 | 0 | 0 |
| DB1246 | Transparent Dark Peridot AB | 0 | 0 | 0 |
| DB1247 | Transparent Olive Green AB | 0 | 0 | 0 |
| DB1248 | Transparent Teal AB | 0 | 0 | 0 |
| DB1249 | Transparent Dark Aqua AB | 0 | 0 | 0 |
| DB1250 | Transparent Blue AB | 0 | 0 | 0 |
| DB1251 | Transparent Lt. Gray AB | 0 | 0 | 0 |
| DB1261 | Matte Transparent Dark Topaz | 0 | 0 | 0 |
| DB1262 | Matte Transparent Ruby | 0 | 0 | 0 |
| DB1263 | Matte Transparent Peach | 0 | 0 | 0 |
| DB1264 | Matte Transparent Dark Amethyst | 0 | 0 | 0 |
| DB1265 | Matte Transparent Smoke Amethyst | 0 | 0 | 0 |
| DB1266 | Matte Transparent Dark Peridot | 0 | 0 | 0 |
| DB1267 | Matte Transparent Olive Green | 0 | 0 | 0 |
| DB1268 | Matte Transparent Teal | 0 | 0 | 0 |
| DB1269 | Matte Transparent Dark Aqua | 0 | 0 | 0 |
| DB1270 | Matte Transparent Blue | 0 | 0 | 0 |
| DB1271 | Matte Transparent Lt. Gray | 0 | 0 | 0 |
| DB1281 | Matte Transparent Dark Peridot AB | 0 | 0 | 0 |
| DB1282 | Matte Transparent Olive Green AB | 0 | 0 | 0 |
| DB1283 | Matte Transparent Teal AB | 0 | 0 | 0 |
| DB1284 | Matte Transparent Dark Aqua AB | 0 | 0 | 0 |
| DB1285 | Matte Transparent Blue AB | 0 | 0 | 0 |
| DB1286 | Matte Transparent Lt. Gray AB | 0 | 0 | 0 |
| | | | | |
| --- | --- | --- | --- | --- |
| Col No. | Color Description | A | B | C |
| DB1301 | Transparent Dyed-Color | 0 | – | X |
| DB1302 | Transparent Dyed-Color | 0 | – | X |
| DB1304 | Transparent Dyed-Color | 0 | – | X |
| DB1308 | Transparent Dyed-Color | 0 | – | X |
| DB1310 | Transparent Dyed-Color | – | – | – |
| DB1312 | Transparent Dyed-Color | – | – | X |
| DB1315 | Transparent Dyed-Color | – | – | X |
| DB1318 | Transparent Dyed-Color | 0 | – | X |
| DB1319 | Transparent Dyed-Color | 0 | – | X |
| DB1333 | Silver Lined Dyed-Color | – | – | X |
| DB1335 | Silver Lined Dyed-Color | – | – | X |
| DB1338 | Silver Lined Dyed-Color | 0 | – | X |
| DB1340 | Silver Lined Dyed-Color | – | – | – |
| DB1341 | Silver Lined Dyed-Color | – | – | X |
| DB1342 | Silver Lined Dyed-Color | – | – | X |
| DB1343 | Silver Lined Dyed-Color | 0 | – | X |
| DB1345 | Silver Lined Dyed-Color | – | – | X |
| DB1347 | Silver Lined Dyed-Color | 0 | – | X |
| DB1363 | Opaque White Dyed-Color | 0 | – | X |
| DB1371 | Opaque White Dyed-Color | 0 | – | X |
| DB1376 | Opaque White Dyed-Color | – | – | X |
| DB1379 | Opaque White Dyed-Color | – | – | X |
| DB1391 | Silver Lined Yellow special finish | 0 | 0 | 0 |
| DB1392 | Silver Lined Orange special finish | 0 | 0 | 0 |
| DB1393 | Silver Lined Lt. Topaz special finish | 0 | 0 | 0 |
| | | | | |
| --- | --- | --- | --- | --- |
| Col No. | Color Description | A | B | C |
| DB1401 | Crystal Glazed Color | 0 | 0 | 0 |
| DB1402 | Crystal Glazed Color | 0 | 0 | 0 |
| DB1403 | Crystal Glazed Color | 0 | 0 | 0 |
| DB1404 | Crystal Glazed Color | 0 | 0 | 0 |
| DB1405 | Crystal Glazed Color | 0 | 0 | 0 |
| DB1406 | Crystal Glazed Color | 0 | 0 | 0 |
| DB1407 | Crystal Glazed Color | 0 | 0 | 0 |
| DB1408 | Crystal Glazed Color | 0 | 0 | 0 |
| DB1409 | Crystal Glazed Color | 0 | 0 | 0 |
| DB1410 | Crystal Glazed Color | 0 | 0 | 0 |
| DB1411 | Crystal Glazed Color | 0 | 0 | 0 |
| DB1412 | Crystal Glazed Color | 0 | 0 | 0 |
| DB1413 | Crystal Glazed Color | 0 | 0 | 0 |
| DB1414 | Crystal Glazed Color | 0 | 0 | 0 |
| DB1415 | Crystal Glazed Color | 0 | 0 | 0 |
| DB1416 | Crystal Glazed Color | 0 | 0 | 0 |
| DB1417 | Crystal Glazed Color | 0 | 0 | 0 |
| DB1431 | Silver Lined Crystal Glazed Color | 0 | – | – |
| DB1432 | Silver Lined Crystal Glazed Color | 0 | – | – |
| DB1433 | Silver Lined Crystal Glazed Color | 0 | – | – |
| DB1434 | Silver Lined Crystal Glazed Color | 0 | – | – |
| DB1435 | Silver Lined Crystal Glazed Color | 0 | – | – |
| DB1451 | Silver Lined Opal Glazed Color | 0 | – | – |
| DB1452 | Silver Lined Opal Glazed Color | 0 | – | – |
| DB1453 | Silver Lined Opal Glazed Color | 0 | – | – |
| DB1454 | Silver Lined Opal Glazed Color | 0 | – | – |
| DB1455 | Silver Lined Opal Glazed Color | 0 | – | – |
| DB1456 | Silver Lined Opal Glazed Color | 0 | – | – |
| DB1457 | Silver Lined Opal Glazed Color | 0 | – | – |
| DB1458 | Silver Lined Opal Glazed Color | 0 | – | – |
| DB1459 | Silver Lined Opal Glazed Color | 0 | – | – |
| DB1460 | Silver Lined Opal Glazed Color | 0 | – | – |
| DB1471 | Crystal Glazed Color & Luster | 0 | 0 | 0 |
| DB1472 | Crystal Glazed Color & Luster | 0 | 0 | 0 |
| DB1473 | Crystal Glazed Color & Luster | 0 | 0 | 0 |
| DB1474 | Crystal Glazed Color & Luster | 0 | 0 | 0 |
| DB1475 | Crystal Glazed Color & Luster | 0 | 0 | 0 |
| DB1476 | Crystal Glazed Color & Luster | 0 | 0 | 0 |
| DB1477 | Crystal Glazed Color & Luster | 0 | 0 | 0 |
| DB1478 | Crystal Glazed Color & Luster | 0 | 0 | 0 |
| DB1479 | Crystal Glazed Color & Luster | 0 | 0 | 0 |
| DB1480 | Crystal Glazed Color & Luster | 0 | 0 | 0 |
| DB1481 | Crystal Glazed Color & Luster | 0 | 0 | 0 |
| DB1482 | Crystal Glazed Color & Luster | 0 | 0 | 0 |
| DB1483 | Crystal Glazed Color & Luster | 0 | 0 | 0 |
| DB1484 | Crystal Glazed Color & Luster | 0 | 0 | 0 |
| DB1485 | Crystal Glazed Color & Luster | 0 | 0 | 0 |
| DB1486 | Crystal Glazed Color & Luster | 0 | 0 | 0 |
| DB1490 | Opaque White Glazed Color | 0 | 0 | 0 |
| DB1491 | Opaque White Glazed Color | 0 | 0 | 0 |
| DB1492 | Opaque White Glazed Color | 0 | 0 | 0 |
| DB1493 | Opaque White Glazed Color | 0 | 0 | 0 |
| DB1494 | Opaque White Glazed Color | 0 | 0 | 0 |
| DB1495 | Opaque White Glazed Color | 0 | 0 | 0 |
| DB1496 | Opaque White Glazed Color | 0 | 0 | 0 |
| DB1497 | Opaque White Glazed Color | 0 | 0 | 0 |
| DB1498 | Opaque White Glazed Color | 0 | 0 | 0 |
| DB1500 | Opaque White Glazed Color AB | 0 | 0 | 0 |
| | | | | |
| --- | --- | --- | --- | --- |
| Col No. | Color Description | A | B | C |
| DB1501 | Opaque White Glazed Color AB | 0 | 0 | 0 |
| DB1502 | Opaque White Glazed Color AB | 0 | 0 | 0 |
| DB1503 | Opaque White Glazed Color AB | 0 | 0 | 0 |
| DB1504 | Opaque White Glazed Color AB | 0 | 0 | 0 |
| DB1505 | Opaque White Glazed Color AB | 0 | 0 | 0 |
| DB1506 | Opaque White Glazed Color AB | 0 | 0 | 0 |
| DB1507 | Opaque White Glazed Color AB | 0 | 0 | 0 |
| DB1508 | Opaque White Glazed Color AB | 0 | 0 | 0 |
| DB1510 | Matte Opaque White Glazed Color | 0 | 0 | 0 |
| DB1511 | Matte Opaque White Glazed Color | 0 | 0 | 0 |
| DB1512 | Matte Opaque White Glazed Color | 0 | 0 | 0 |
| DB1513 | Matte Opaque White Glazed Color | 0 | 0 | 0 |
| DB1514 | Matte Opaque White Glazed Color | 0 | 0 | 0 |
| DB1515 | Matte Opaque White Glazed Color | 0 | 0 | 0 |
| DB1516 | Matte Opaque White Glazed Color | 0 | 0 | 0 |
| DB1517 | Matte Opaque White Glazed Color | 0 | 0 | 0 |
| DB1518 | Matte Opaque White Glazed Color | 0 | 0 | 0 |
| DB1520 | Matte Opaque White Glazed Color AB | 0 | 0 | 0 |
| DB1521 | Matte Opaque White Glazed Color AB | 0 | 0 | 0 |
| DB1522 | Matte Opaque White Glazed Color AB | 0 | 0 | 0 |
| DB1523 | Matte Opaque White Glazed Color AB | 0 | 0 | 0 |
| DB1524 | Matte Opaque White Glazed Color AB | 0 | 0 | 0 |
| DB1525 | Matte Opaque White Glazed Color AB | 0 | 0 | 0 |
| DB1526 | Matte Opaque White Glazed Color AB | 0 | 0 | 0 |
| DB1527 | Matte Opaque White Glazed Color AB | 0 | 0 | 0 |
| DB1528 | Matte Opaque White Glazed Color AB | 0 | 0 | 0 |
| DB1530 | Opaque White Glazed Color & Luster | 0 | 0 | 0 |
| DB1531 | Opaque White Glazed Color & Luster | 0 | 0 | 0 |
| DB1532 | Opaque White Glazed Color & Luster | 0 | 0 | 0 |
| DB1533 | Opaque White Glazed Color & Luster | 0 | 0 | 0 |
| DB1534 | Opaque White Glazed Color & Luster | 0 | 0 | 0 |
| DB1535 | Opaque White Glazed Color & Luster | 0 | 0 | 0 |
| DB1536 | Opaque White Glazed Color & Luster | 0 | 0 | 0 |
| DB1537 | Opaque White Glazed Color & Luster | 0 | 0 | 0 |
| DB1538 | Opaque White Glazed Color & Luster | 0 | 0 | 0 |
| DB1561 | Opaque Dark Ivory Luster | 0 | 0 | 0 |
| DB1562 | Opaque Dark Yellow Luster | 0 | 0 | 0 |
| DB1563 | Opaque Lt. Orange Luster | 0 | 0 | 0 |
| DB1564 | Opaque Dark Red Luster | 0 | 0 | 0 |
| DB1565 | Opaque Chocolate Luster | 0 | 0 | 0 |
| DB1566 | Opaque Olive Green Luster | 0 | 0 | 0 |
| DB1567 | Opaque Lt. Turquoise Luster | 0 | 0 | 0 |
| DB1568 | Opaque Ice Blue Luster | 0 | 0 | 0 |
| DB1569 | Opaque Lt. Lapis Luster | 0 | 0 | 0 |
| DB1570 | Opaque Gray Luster | 0 | 0 | 0 |
| DB1571 | Opaque Dark Ivory AB | 0 | 0 | 0 |
| DB1572 | Opaque Dark Yellow AB | 0 | 0 | 0 |
| DB1573 | Opaque Lt. Orange AB | 0 | 0 | 0 |
| DB1574 | Opaque Chocolate AB | 0 | 0 | 0 |
| DB1575 | Opaque Olive Green AB | 0 | 0 | 0 |
| DB1576 | Opaque Lt.Turquoise AB | 0 | 0 | 0 |
| DB1577 | Opaque Ice Blue AB | 0 | 0 | 0 |
| DB1578 | Opaque Lt. Lapis AB | 0 | 0 | 0 |
| DB1579 | Opaque Gray AB | 0 | 0 | 0 |
| DB1581 | Matte Opaque Lt. Ivory | 0 | 0 | 0 |
| DB1582 | Matte Opaque Dark Yellow | 0 | 0 | 0 |
| DB1583 | Matte Opaque Lt. Orange | 0 | 0 | 0 |
| DB1584 | Matte Opaque Chocolate | 0 | 0 | 0 |
| DB1585 | Matte Opaque Olive Green | 0 | 0 | 0 |
| DB1586 | Matte Opaque Lt. Turquoise | 0 | 0 | 0 |
| DB1587 | Matte Opaque Ice Blue | 0 | 0 | 0 |
| DB1588 | Matte Opaque Lt. Lapis | 0 | 0 | 0 |
| DB1589 | Matte Opaque Gray | 0 | 0 | 0 |
| DB1591 | Matte Opaque Lt. Ivory AB | 0 | 0 | 0 |
| DB1592 | Matte Opaque Dark Yellow AB | 0 | 0 | 0 |
| DB1593 | Matte Opaque Lt.Orange AB | 0 | 0 | 0 |
| DB1594 | Matte Opaque Olive Green AB | 0 | 0 | 0 |
| DB1595 | Matte Opaque Lt. Turquoise AB | 0 | 0 | 0 |
| DB1596 | Matte Opaque Ice Blue AB | 0 | 0 | 0 |
| DB1597 | Matte Opaque Lt. Lapis AB | 0 | 0 | 0 |
| DB1598 | Matte Opaque Gray AB | 0 | 0 | 0 |
| | | | | |
| --- | --- | --- | --- | --- |
| Col No. | Color Description | A | B | C |
| DB1671 | pearlized | 0 | 0 | – |
| DB1672 | pearlized | 0 | 0 | – |
| DB1673 | pearlized | 0 | 0 | – |
| DB1674 | pearlized | 0 | 0 | – |
| DB1675 | pearlized | 0 | 0 | – |
| DB1676 | pearlized | 0 | 0 | – |
| DB1677 | pearlizeds | 0 | 0 | – |
| DB1681 | silv. Glazed | 0 | 0 | – |
| DB1682 | silv. Glazed | 0 | 0 | – |
| DB1683 | silv. Glazed | 0 | 0 | – |
| DB1684 | silv. Glazed | 0 | 0 | – |
| DB1685 | silv. Glazed | 0 | 0 | – |
| DB1691 | silv. glazed.rainbow | 0 | 0 | – |
| DB1692 | silv. glazed.rainbow | 0 | 0 | – |
| DB1694 | silv. glazed.rainbow | 0 | 0 | – |
| | | | | |
| --- | --- | --- | --- | --- |
| Col No. | Color Description | A | B | C |
| DB1701 | silv.glazed.rainbow | 0 | 0 | – |
| DB1702 | silv.glazed.rainbow | 0 | 0 | – |
| DB1703 | silv.glazed.rainbow | 0 | 0 | – |
| DB1704 | silv.glazed.rainbow | 0 | 0 | – |
| DB1705 | silv.glazed.rainbow | 0 | 0 | – |
| DB1706 | silv.glazed.rainbow | 0 | 0 | – |
| DB1707 | silv.glazed.rainbow | 0 | 0 | – |
| DB1708 | silv.glazed.rainbow | 0 | 0 | – |
| DB1709 | silv.glazed.rainbow | 0 | 0 | – |
| DB1710 | silv.glazed.rainbow | 0 | 0 | – |
| DB1711 | silv.glazed.rainbow | 0 | 0 | – |
| DB1712 | silv.glazed.rainbow | 0 | 0 | – |
| DB1731 | Inside Dyed Color | 0 | 0 | – |
| DB1732 | Inside Dyed Color | – | 0 | x |
| DB1733 | Inside Dyed Color | 0 | 0 | – |
| DB1734 | Inside Dyed Color | 0 | 0 | – |
| DB1735 | Inside Dyed Color | 0 | 0 | – |
| DB1736 | Inside Dyed Color | 0 | 0 | – |
| DB1737 | Inside Dyed Color | – | 0 | x |
| DB1738 | Inside Dyed Color | – | 0 | x |
| DB1739 | Inside Dyed Color | 0 | 0 | – |
| DB1740 | Inside Dyed Color | 0 | 0 | – |
| DB1741 | Inside Dyed Color | 0 | 0 | – |
| DB1742 | Inside Dyed Color | 0 | 0 | – |
| DB1743 | Inside Dyed Color | – | 0 | x |
| DB1744 | Inside Dyed Color | – | 0 | x |
| DB1745 | Inside Dyed Color | 0 | 0 | – |
| DB1746 | Inside Dyed Color | 0 | 0 | – |
| DB1747 | Inside Dyed Color | – | 0 | x |
| DB1748 | Inside Dyed Color | – | 0 | x |
| DB1749 | Inside Dyed Color | – | 0 | x |
| DB1750 | Inside Dyed Color | 0 | 0 | – |
| DB1751 | Inside Dyed Color | – | 0 | x |
| DB1752 | Inside Dyed Color | 0 | 0 | – |
| DB1753 | Inside Dyed Color | 0 | 0 | – |
| DB1754 | Inside Dyed Color | 0 | 0 | – |
| DB1755 | Inside Dyed Color | – | 0 | x |
| DB1756 | Inside Dyed Color | 0 | 0 | – |
| DB1757 | Inside Dyed Color | 0 | 0 | – |
| DB1758 | Inside Dyed Color | 0 | 0 | – |
| DB1759 | Inside Dyed Color | 0 | 0 | – |
| DB1760 | Inside Dyed Color | 0 | 0 | – |
| DB1761 | Inside Dyed Color | 0 | 0 | – |
| DB1762 | Inside Dyed Color | 0 | 0 | – |
| DB1763 | Inside Dyed Color | 0 | 0 | – |
| DB1764 | Inside Dyed Color | 0 | 0 | – |
| DB1765 | Inside Dyed Color | 0 | 0 | – |
| DB1766 | Inside Dyed Color | 0 | 0 | – |
| DB1767 | Inside Dyed Color | 0 | 0 | – |
| DB1768 | Inside Dyed Color | 0 | 0 | – |
| DB1769 | Inside Dyed Color | 0 | 0 | – |
| DB1770 | Inside Dyed Color | 0 | 0 | – |
| DB1771 | Inside Dyed Color | 0 | 0 | – |
| DB1772 | Inside Dyed Color | 0 | 0 | – |
| DB1773 | Inside Dyed Color | 0 | 0 | – |
| DB1774 | Inside Dyed Color | – | 0 | x |
| DB1775 | Inside Dyed Color | 0 | 0 | – |
| DB1776 | Inside Dyed Color | 0 | 0 | – |
| DB1777 | Inside Dyed Color | 0 | 0 | – |
| DB1778 | Inside Dyed Color | 0 | 0 | – |
| DB1779 | Inside Dyed Color | 0 | 0 | – |
| DB1780 | Inside Dyed Color | 0 | 0 | – |
| DB1781 | Inside Dyed Color | 0 | 0 | – |
| DB1782 | Inside Dyed Color | 0 | 0 | – |
| DB1783 | Inside Dyed Color | 0 | 0 | – |
| DB1784 | Inside Dyed Color | 0 | 0 | – |
| DB1785 | Inside Dyed Color | 0 | 0 | – |
| DB1786 | Inside Dyed Color | 0 | 0 | – |
| DB1787 | Inside Dyed Color | 0 | 0 | – |
| DB1788 | Inside Dyed Color | 0 | 0 | – |
| DB1789 | Inside Dyed Color | 0 | 0 | – |
| DB1790 | Inside Dyed Color | 0 | 0 | – |
| DB1791 | Inside Dyed Color | 0 | 0 | – |
| DB1792 | Inside Dyed Color | 0 | 0 | – |
| DB1793 | Inside Dyed Color | 0 | 0 | – |
| | | | | |
| --- | --- | --- | --- | --- |
| Col No. | Color Description | A | B | C |
| DB1801 | Silk Inside Dyed Color | 0 | 0 | – |
| DB1802 | Silk Inside Dyed Color | 0 | 0 | – |
| DB1803 | Silk Inside Dyed Color | 0 | 0 | – |
| DB1804 | Silk Inside Dyed Color | 0 | 0 | – |
| DB1805 | Silk Inside Dyed Color | 0 | 0 | – |
| DB1806 | Silk Inside Dyed Color | 0 | 0 | – |
| DB1807 | Silk Inside Dyed Color | 0 | 0 | – |
| DB1808 | Silk Inside Dyed Color | 0 | 0 | – |
| DB1809 | Silk Inside Dyed Color | 0 | 0 | – |
| DB1810 | Silk Inside Dyed Color | 0 | 0 | – |
| DB1811 | Silk Inside Dyed Color | 0 | 0 | – |
| DB1812 | Silk Inside Dyed Color | 0 | 0 | – |
| DB1813 | Silk Inside Dyed Color | 0 | 0 | – |
| DB1814 | Silk Inside Dyed Color | 0 | 0 | – |
| DB1815 | Silk Inside Dyed Color | 0 | 0 | – |
| DB1816 | Silk Inside Dyed Color | 0 | 0 | – |
| DB1817 | Silk Inside Dyed Color | 0 | 0 | – |
| DB1818 | Silk Inside Dyed Color | 0 | 0 | – |
| DB1831 | Duracoat Galvanized | 0 | – | – |
| DB1832 | Duracoat Galvanized | 0 | – | – |
| DB1833 | Duracoat Galvanized | 0 | – | – |
| DB1834 | Duracoat Galvanized | 0 | – | – |
| DB1835 | Duracoat Galvanized | 0 | – | – |
| DB1836 | Duracoat Galvanized | 0 | – | – |
| DB1837 | Duracoat Galvanized | 0 | – | – |
| DB1838 | Duracoat Galvanized | 0 | – | – |
| DB1839 | Duracoat Galvanized | 0 | – | – |
| DB1840 | Duracoat Galvanized | 0 | – | – |
| DB1841 | Duracoat Galvanized | 0 | – | – |
| DB1842 | Duracoat Galvanized | 0 | – | – |
| DB1843 | Duracoat Galvanized | 0 | – | – |
| DB1844 | Duracoat Galvanized | 0 | – | – |
| DB1845 | Duracoat Galvanized | 0 | – | – |
| DB1846 | Duracoat Galvanized | 0 | – | – |
| DB1847 | Duracoat Galvanized | 0 | – | – |
| DB1848 | Duracoat Galvanized | 0 | – | – |
| DB1849 | Duracoat Galvanized | 0 | – | – |
| DB1850 | Duracoat Galvanized | 0 | – | – |
| DB1851 | Duracoat Galvanized | 0 | – | – |
| | | | | |
| --- | --- | --- | --- | --- |
| Col No. | Color Description | A | B | C |
| DBC-0001 | Gunmetal | 0 | 0 | 0 |
| DBC-0002 | Blue Iris | 0 | 0 | 0 |
| DBC-0003 | Green Iris | 0 | 0 | 0 |
| DBC-0005 | Black AB | 0 | 0 | 0 |
| DBC-0007 | Brown Iris | 0 | 0 | 0 |
| DBC-0010 | Black | 0 | 0 | 0 |
| DBC-0011 | Metallic Olive | 0 | – | 0 |
| DBC-0012 | Metallic Raspberry | 0 | – | 0 |
| DBC-0021 | Nickel Plated | 0 | – | 0 |
| DBC-0022 | Metallic Bronze | 0 | – | 0 |
| DBC-0023 | Metallic Lt.Bronze AB | 0 | 0 | 0 |
| DBC-0024 | Metallic Green AB | 0 | 0 | 0 |
| DBC-0025 | Metallic Purple AB | 0 | 0 | 0 |
| DBC-0027 | Metallic Green Luster | 0 | 0 | 0 |
| DBC-0029 | Nickel Plated AB | 0 | 0 | 0 |
| DBC-0031 | 24KT Gold Plated | 0 | – | 0 |
| DBC-0032 | Rhodium Plated | 0 | – | 0 |
| DBC-0033 | 24KT Gold Lined Crystal | 0 | 0 | – |
| DBC-0034 | 24Kt Lt. Gold Plated | 0 | – | 0 |
| DBC-0035 | Galvanized Silver | – | X | X |
| DBC-0036 | Tin Plated | 0 | – | 0 |
| DBC-0037 | Copper Lined Crystal | – | X | – |
| DBC-0038 | Palladium Plated | 0 | – | 0 |
| DBC-0040 | Copper Plated | – | X | X |
| DBC-0041 | Silver Lined (S/L) Crystal | – | – | – |
| DBC-0042 | Silver Lined (S/L) Gold | – | – | – |
| DBC-0050 | Crystal Luster | 0 | 0 | 0 |
| DBC-0051 | Crystal AB | 0 | 0 | 0 |
| DBC-0056 | Inside Dyed-Color AB | – | 0 | X |
| DBC-0060 | Inside Dyed-Color AB | 0 | 0 | – |
| DBC-0062 | Inside Dyed-Color | – | 0 | X |
| DBC-0085 | Inside Dyed-Color AB | – | 0 | X |
| DBC-0088 | Inside Dyed-Color AB | – | 0 | X |
| DBC-0089 | Inside Dyed-Color AB | – | 0 | X |
| DBC-0100 | Transparent Lt. Topaz AB | 0 | 0 | 0 |
| DBC-0101 | Transparent Glazed Luster | 0 | – | 0 |
| DBC-0103 | Transparent Gold Luster AB | 0 | 0 | 0 |
| DBC-0108 | Transparent Gold Luster Amethyst | X | – | – |
| DBC-0111 | Transparent Glazed Luster Lt. Blue AB | – | – | 0 |
| DBC-0115 | Transparent Lt. Topaz Gold Luster | X | – | – |
| DBC-0116 | Transparent Red Gold Luster | 0 | – | 0 |
| DBC-0121 | Transparent Lt. Topaz Gold Luster | X | – | – |
| DBC-0122 | Transparent Lt. Topaz Gold Luster AB | 0 | 0 | 0 |
| DBC-0123 | Transparent Lt. Topaz Gold Luster Smoke | X | – | – |
| DBC-0254 | Opaque White Gold Luster Bronze | – | – | – |
| DBC-0501 | 24KT Gold Plated AB | 0 | 0 | 0 |
| DBC-0502 | Rhodium Plated AB | 0 | 0 | 0 |
| DBC-0541 | Palladium Plated AB | 0 | 0 | 0 |
| DBC-0902 | Inside Dyed-Color | 0 | 0 | – |
| DBC-0906 | Inside Dyed-Color | 0 | 0 | – |
| DBC-0907 | Inside Dyed-Color | 0 | 0 | – |
| DBC-0910 | Inside Dyed-Color | 0 | 0 | – |
| DBC-0914 | Inside Dyed-Color | 0 | 0 | – |
| DBC-0915 | Inside Dyed-Color | 0 | 0 | – |
| DBC-0918 | Inside Dyed-Color | 0 | 0 | – |
| DBC-0920 | Inside Dyed-Color | 0 | 0 | – |
| DBC-0923 | Inside Dyed-Color | 0 | 0 | – |
| DBC-0925 | Inside Dyed-Color | 0 | 0 | – |
| DBC-1393 | Silver Lined Lt. Topaz | – | – | – |
| | | | | |
| --- | --- | --- | --- | --- |
| Col No. | Color Description | A | B | C |
| DBL-0001 | Gunmetal | 0 | 0 | 0 |
| DBL-0002 | Blue Iris | 0 | 0 | 0 |
| DBL-0005 | Black AB | 0 | 0 | 0 |
| DBL-0010 | Black | 0 | 0 | 0 |
| DBL-0011 | Metallic Olive | 0 | – | 0 |
| DBL-0012 | Metallic Raspberry | 0 | – | 0 |
| DBL-0021 | Nickel Plated | 0 | – | 0 |
| DBL-0022 | Metallic Bronze | 0 | – | 0 |
| DBL-0023 | Metallic Bronze AB | 0 | 0 | 0 |
| DBL-0029 | Nickel Plated AB | 0 | 0 | 0 |
| DBL-0031 | 24KT Gold Plated | 0 | – | 0 |
| DBL-0034 | 24KT Lt. Gold Plated | 0 | – | 0 |
| DBL-0035 | Galvanized Silver | – | X | X |
| DBL-0037 | Copper Lined Crystal | – | X | – |
| DBL-0038 | Palladium Plated | 0 | – | 0 |
| DBL-0041 | Silver Lined (S/L) Crystal | – | – | – |
| DBL-0042 | Silver Lined (S/L) Gold | – | – | – |
| DBL-0043 | Silver Lined (S/L) Red | – | – | – |
| DBL-0050 | Crystal Luster | 0 | 0 | 0 |
| DBL-0051 | Crystal AB | 0 | 0 | 0 |
| DBL-0062 | Inside Dyed-Color | – | 0 | X |
| DBL-0065 | Inside Dyed-Color | – | 0 | X |
| DBL-0088 | Inside Dyed-Color AB | – | 0 | X |
| DBL-0089 | Inside Dyed-Color AB | – | 0 | X |
| DBL-0098 | Transparent Red Luster | 0 | 0 | 0 |
| DBL-0099 | Transparent Lt. Topaz Luster | 0 | 0 | 0 |
| DBL-0100 | Transparent Lt. Topaz AB | 0 | 0 | 0 |
| DBL-0104 | Transparent Gold Luster Raspberry AB | 0 | 0 | 0 |
| DBL-0105 | Transparent Red Gold Luster | 0 | 0 | 0 |
| DBL-0106 | Transparent Glazed Luster Pink | 0 | 0 | 0 |
| DBL-0107 | Transparent Gold Luster Grey AB | 0 | – | 0 |
| DBL-0108 | Transparent Gold Luster Amethyst | X | – | – |
| DBL-0115 | Transparent Lt. Topaz Gold Luster | X | – | – |
| DBL-0116 | Transparent Red Gold Luster | 0 | – | 0 |
| DBL-0121 | Transparent Lt. Topaz Gold Luster | X | – | – |
| DBL-0122 | Transparent Lt. Topaz Gold Luster AB | 0 | 0 | 0 |
| DBL-0123 | Transparent Lt. Topaz Gold Luster Smoke | X | – | – |
| DBL-0141 | Transparent (Transparent) Crystal | 0 | 0 | 0 |
| DBL-0172 | Transparent Red AB | 0 | 0 | 0 |
| DBL-0191 | Opal Copper Lined | – | X | – |
| DBL-0200 | Opaque White | 0 | 0 | 0 |
| DBL-0201 | Opaque White Luster | 0 | 0 | 0 |
| DBL-0202 | Opaque White AB | 0 | 0 | 0 |
| DBL-0203 | Opaque White Glazed Luster | 0 | – | 0 |
| DBL-0221 | Opal Silver Lined (S/L) | – | – | – |
| DBL-0222 | Opal AB | 0 | 0 | 0 |
| DBL-0231 | Ceylon White | 0 | 0 | 0 |
| DBL-0232 | Ceylon Inside-Dyed Color | 0 | 0 | – |
| DBL-0233 | Ceylon Inside-Dyed Color | 0 | 0 | – |
| DBL-0234 | Ceylon Inside-Dyed Color | – | 0 | X |
| DBL-0244 | Ceylon Inside-Dyed Color | – | 0 | X |
| DBL-0249 | Ceylon Inside-Dyed Color | – | 0 | X |
| DBL-0271 | Inside Dyed-Color | 0 | 0 | – |
| DBL-0301 | Matte Metallic Black Luster | 0 | 0 | 0 |
| DBL-0307 | Matte Black AB | 0 | 0 | 0 |
| DBL-0310 | Matte Black | 0 | 0 | 0 |
| DBL-0311 | Matte Metallic Olive Green | 0 | – | 0 |
| DBL-0312 | Matte Metallic Copper AB | 0 | 0 | 0 |
| DBL-0321 | Matte Nickel Plated | 0 | – | 0 |
| DBL-0322 | Matte Metallic Bronze | 0 | – | 0 |
| DBL-0323 | Matte Metallic Purple Iris | 0 | 0 | 0 |
| DBL-0324 | Matte Metallic Green AB | 0 | 0 | 0 |
| DBL-0325 | Matte Metallic Blue AB | 0 | 0 | 0 |
| DBL-0351 | Matte Chalk White | 0 | 0 | 0 |
| DBL-0352 | Matte Opaque Glazed Luster Ivory | 0 | – | – |
| DBL-0410 | Galvanized Dyed-Color | 0 | – | X |
| DBL-0901 | Inside Dyed-Color | 0 | 0 | – |
| DBL-0902 | Inside Dyed-Color | 0 | 0 | – |
| DBL-0903 | Inside Dyed-Color | 0 | 0 | – |
| DBL-0904 | Inside Dyed-Color | 0 | 0 | – |
| DBL-0905 | Inside Dyed-Color | 0 | 0 | – |
| DBL-0906 | Inside Dyed-Color | 0 | 0 | – |
| | | | | |
| --- | --- | --- | --- | --- |
| Col No. | Color Description | A | B | C |
| DBLC-0001 | Gunmetal | 0 | 0 | 0 |
| DBLC-0002 | Blue Iris | 0 | 0 | 0 |
| DBLC-0005 | Black AB | 0 | 0 | 0 |
| DBLC-0010 | Black | 0 | 0 | 0 |
| DBLC-0011 | Metallic Olive | 0 | – | 0 |
| DBLC-0012 | Metallic Raspberry | 0 | – | 0 |
| DBLC-0021 | Nickel Plated | 0 | – | 0 |
| DBLC-0022 | Metallic Bronze | 0 | – | 0 |
| DBLC-0029 | Nickel Plated AB | 0 | 0 | 0 |
| DBLC-0031 | 24Kt Gold Plated | 0 | – | 0 |
| DBLC-0034 | 24Kt Lt. Gold Plated | 0 | – | 0 |
| DBLC-0038 | Palladium Plated | 0 | – | 0 |
| DBLC-0050 | Crystal Luster | 0 | 0 | 0 |
| DBLC-0051 | Crystal AB | 0 | 0 | 0 |
| DBLC-0056 | Inside Dyd-Color AB | – | 0 | X |
| DBLC-0058 | Inside Dyed-Color AB | – | 0 | X |
| DBLC-0060 | Inside Dyed-Color AB | 0 | 0 | – |
| DBLC-0062 | Inside Dyed-Color | – | 0 | X |
| DBLC-0064 | Inside Dyed-Color | – | 0 | X |
| DBLC-0065 | Inside Dyed-Color | – | 0 | X |
| DBLC-0089 | Inside Dyed-Color AB | – | 0 | X |
| DBLC-0099 | Transparent Lt. Topaz Luster | 0 | 0 | 0 |
| DBLC-0100 | Transparent Lt. Topaz AB | 0 | 0 | 0 |
| DBLC-0103 | Transparent Gold Luster AB | 0 | 0 | 0 |
| DBLC-0104 | Transparent Gold Luster Raspberry AB | 0 | 0 | 0 |
| DBLC-0106 | Transparent Glazed Luster Pink | 0 | 0 | 0 |
| DBLC-0108 | Transparent Gold Luster Amethsyt | X | – | – |
| DBLC-0111 | Transparent Glazed Luster Lt.Blue AB | – | – | 0 |
| DBLC-0115 | Transparent Lt. Topaz Gold Luster | X | – | – |
| DBLC-0121 | Transparent Lt. Topaz Gold Luster | X | – | – |
| DBLC-0122 | Transparent Lt. Topaz Gold Luster AB | 0 | 0 | 0 |
| DBLC-0123 | Transparent Lt. Topaz Gold Luster Smoke | X | – | – |
Share and Enjoy