Pantone's Color of the Year is Honeysuckle

If you had to pick just one color, Pantone says it is to be Honeysuckle this year! "In times of stress, we need something to lift our spirits. Honeysuckle is a captivating, stimulating color that gets the adrenaline going – perfect to ward off the blues," explains Leatrice Eiseman, executive director of the Pantone Color Institute®. "Honeysuckle derives its positive qualities from a powerful bond to its mother color red, the most physical, viscerally alive hue in the spectrum."
Eiseman continues, "The intensity of this festive reddish pink allures and engages. In fact, this color, not the sweet fragrance of the flower blossoms for which it was named, is what attracts hummingbirds to nectar. Honeysuckle may also bring a wave of nostalgia for its associated delicious scent reminiscent of the carefree days of spring and summer."
http://www.pantone.com/pages/pantone/Pantone.aspx?pg=20821&ca=4
Pantone suggests Honeysuckle will pair easily with the basics of black, navy, charcoal or light to mid gray. Also suggested are bronze greens (Willow PANTONE 16-0632 and/or Tapenade PANTONE 18-0840) and pinkish brown (Apricot Brandy PANTONE 17-1540).  I think Honeysuckle also goes great with Pantone's last year's Color of Year, Turquoise.
While pink isn't for everyone, there are lots of  beads you can find in this color to use in your beadwork: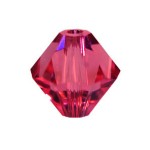 If you are into bling (and who isn't) Swarovski has crystals of all shapes and sizes.  Look for Indian Pink, Rose and Rose AB to add the Honeysuckle color.
If you prefer more natural stones and materials, you can find bigger beads and cabochons in Rhodonite, Rhodochrosite, Pearls and Shells.
Look for Delicas® in these great Honeysuckle colors:
ceylon color-lined raspberry ice (DB236)
galvanized pink (DB420)
galvanized strawberry (DB428)
silver-lined pink (DB625)
silver-lined frost dark rose (DB685)
transparent matte dark fuchsia (DB775)
transparent matte hot pink (DB778)
opaque matte dusty rose (DB800)
color-lined hot pink (DB902)
color-lined pink lipstick (DB914)
transparent dark rose (DB1308)
silver-lined dark pink (DB1338)
silver-lined pink rose (DB1341)
silver-lined dark rose (DB1342)
opaque rose (DB1371)
opaque dark rose (DB1376)
If you haven't used this color in your beadwork before, looks like this is the year to try.  Never be afraid to try something new and don't forget to do it with your own style.
Share and Enjoy